iNOVA Media Lab
iNOVA Media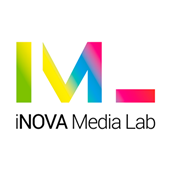 Lab is an applied research laboratory at FCSH/NOVA devoted to an interdisciplinary convergence of digital media and emerging technologies. The lab is organized around four research lines: (a) immersive and interactive storytelling, (b) visualization and data analysis, (c) digital journalism and (d) science communication.
Our mission is to translate scientific knowledge into real solutions for contemporary media, addressing the problem of a broken intermediation between R&D institutions, communities and the industry.
The lab is thus geared to translational practices: we look beyond disciplinary boundaries, working in the intersection between social sciences and digital technologies development for the media. By merging distinct mindsets, we build bridges between research units, classrooms, local communities and the industry in educational, scientific and entrepreneurial projects.
More info: https://inovamedialab.org/