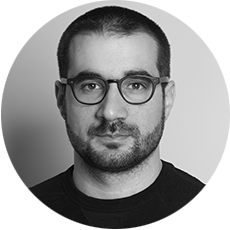 Paulo Nuno Vicente
Professor Auxiliar do Departamento de Ciências de Comunicação da Universidade Nova de Lisboa. Coordenador do Inova Media Lab.
Paulo Nuno Vicente is a non-fiction multimedia storyteller. That usually means being a problem solver while feeding the creative spark of interdisciplinary teams. As a journalist and as a documentary filmmaker, he has been working mainly in the so called "global south": Guinea-Bissau, Ceuta and Melilla, São Tomé and Príncipe, Lebanon, Bosnia-Herzegovina, Israel and the West Bank, Cape Verd, Chad and Central African Republic, Brazil, Kenya, Senegal, Mozambique and South Africa. He is also an international trainer and consultant on digital media for DW-Akademie in Guinea-Bissau, Mozambique and Ghana.
In 2013, he founded Bagabaga Studios, and, in 2015, Divergente, a multimedia investigative journalism project. He completed his PhD in Digital Media in 2013, in the scope of UT Austin Portugal Program, with a research project about the work of foreign correspondents in Sub-Saharan Africa. Since 2015, at NOVA University of Lisbon, where he works as a professor, he coordinates iNOVA Media Lab, a research and development laboratory dedicated to immersive and interactive narratives, digital journalism, science communication and social media research. He was a 2016 Fellow of the German Marshall Fund of the United States.
Paulo is also a musician and passionate about strings instruments, particularly guitars. He is a self-taught musician since he was 12 years old and has a conviction: Steve Vai is an alien disguised as a human being.
E-mail: pnvicente@gmail.com
Portal de Góis: http://www.degois.pt/visualizador/curriculum.jsp?key=4627155680314400
Página da NOVA-FCSH:  http://www.fcsh.unl.pt/faculdade/docentes/pgvicente